---
9/11 : Vingt ans après...II
...vingt ans et des poussières...de Nicolas Tesla.
***
APRIL 18, 2023
Une enquête menée par Kit Klarenberg...
https://thegrayzone.com/2023/04/18/9-11-hijackers-cia-recruits/
et relayée par mai68.org...
http://mai68.org/spip2/spip.php?article14997
911 - Les pirates de l'air du 11 septembre 2001 étaient des recrues de la CIA
...relance le vieux serpent de mer de la connexion saoudienne...à l'heure où sonne le rapprochement de Riad et Moscou en matière pétrolière...
Publié le 9 avr. 2020 à 19:21Mis à jour le 10 avr. 2020 à 9:02
L'Arabie saoudite et la Russie sont parvenues à s'entendre. Les treize pays de l'Opep et leurs alliés menés par Moscou sont tombés d'accord, à l'issue d'une réunion par visioconférence, sur le principe d'une réduction massive de leur production de pétrole. L'objectif : faire remonter les cours du brut
https://www.lesechos.fr/finance-marches/marches-financiers/petrole-russie-et-arabie-saoudite-sur-la-voie-dun-accord-pour-reduire-leur-production-1193827
Bombshell filing: 9/11 hijackers were CIA recruits
At least two 9/11 hijackers had been recruited into a joint CIA-Saudi intelligence operation that was covered up at the highest level, according to an explosive new court filing.
A newly-released court filing raises grave questions about the relationship between Alec Station, a CIA unit set up to track Al Qaeda chief Osama bin Laden and his associates, and two 9/11 hijackers leading up to the attacks, which was subject to a coverup at the highest levels of the FBI.
Obtained by SpyTalk, the filing is a 21-page declaration by Don Canestraro, a lead investigator for the Office of Military Commissions, the legal body overseeing the cases of 9/11 defendants. It summarizes classified government discovery disclosures, and private interviews he conducted with anonymous high-ranking CIA and FBI officials. Many agents who spoke to Canestraro headed up Operation Encore, the Bureau's aborted, long-running probe into Saudi government connections to the 9/11 attack.
***
Un exemple de "prémonition" démontrée par la fiction rationalisante précédant sa réalisation physique...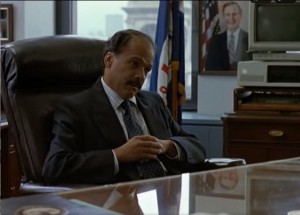 Law and Order - Un incendie pas comme les autres (Heaven), scénario : Robert Palm et Nancy Miller - 1991
- (Le portrait de Georges Bush en arrière-plan) C'est un héros...
- Un héros ne fait pas incendier un immeuble plein d'innocents...
- C'est vrai, et c'est pourquoi qu'il ne peut être impliqué dans cette effroyable tragédie...
...?
En vingt ans d'observation, des catégories empiriques, essentiellement dégagées par Simon Shack dans son September Clues, ont fini par s'imposer au processus d'authentification d'un document ou d'un témoignage:
9/11 Footage of the the South Tower being hit
https://www.youtube.com/watch?v=5_e04cKaG-c
Un témoignage vidéo authentique et spontané, répond a priori à deux critères au moins:
1- Le ciel est d'un pur azur (nécessaire mais pas suffisant) !
2- Le zoom de l'opérateur, surpris par l'événement, n'est pas réussi (l'image est déjà passée du plan large au gros plan sur la première tour quand la second tour "explose", on ne voit ni "l'avion" ni son impact, mais on entend le souffle d'un engin avant l'explosion, ce "souffle" est couvert en grande partie par le commentaire de CNN)
3- Quid de la bande son et des autres critères ... ?
Dans un "témoignage" fabriqué, présentant le même événement :
1- Le ciel n'est pas d'un pur azur (ni même bleu, c'est un fonds d'écran jaunâtre)
2- Le zoom de l'opérateur, télécommandé (?) depuis son hélicoptère et prenant part comme élément actif à la construction de la narrative, anticipe parfaitement l'événement au moment où l'objet pénètre le champ de la caméra, passant souplement du plan général au plan moyen au moment de explosion, pour finir son mouvement, harmonieusement continu, sur un plan plus serré de la boule de feu léchant la seconde tour ...
9/11: Footage of the the South Tower being hit
https://www.dailymotion.com/video/xl0s89
Pour rappel, la version médiatisée basée sur les rapports des commissions d'enquête :
How the September 11, 2001 attacks unfolded
https://www.youtube.com/watch?v=FHpiv2oBj_c
Contrairement aux affirmations soutenues par un poncif tout à fait irrecevable, l'esprit réputé nébuleux et sectaire des "théories de la conspiration", éprouve toutes les difficultés à admettre deux points de la version dogmatique:
1- les "objets" ayant percuté les tours du WTC et le Pentagone seraient des "avions de ligne" (la vidéo de l'AFP admet visuellement que les engins décrits se comportent comme des missiles),
2- les tours se seraient effondrées (collapsed), alors que les témoignages concordent pour montrer une "pulvérisation" des tours, passant sublimement d'un état solide à un état "gazeux", se transformant subitement en monstrueux nuage de poussière recouvrant tout Manhattan...
***
1- les "objets" ayant percuté les tours du WTC et le Pentagone seraient des "avions de ligne":
***
11 Septembre 2001 Débat avec des pilotes français
mise en ligne par Gérard Lazare le 11 septembre 2015
https://www.youtube.com/watch?v=h9HznbFed_Y
***
***
Ghostplane Theory: Plane Crashes Were Faked?
Would you believe this?
https://www.youtube.com/watch?v=YFjjmvu5ei8
Simon Shack's Original Documentary That Shows 9/11 for what is really was. http://www.septemberclues.info/
https://archive.org/details/2008-Simon-Shack-September-Clues
Ex-CIA Pilot Gives Sworn Testimony That No Planes Hit The Twin Towers
By: Ron Baitley-Simens on 30th May 2014 @ 4.22pm
John Lear, the son of Learjet inventor, Bill Lear, has given his expert evidence that it would have been physically impossible for Boeing 767s, like Flights AA11 and UA175 to have hit the Twin Towers on 9/11, particularly when flown by inexperienced pilots :
'No Boeing 767 airliners hit the Twin Towers as fraudulently alleged by the government, media, NIST and its contractors', he claimed in the affidavit.
The affidavit, dated 28th January 2014 is part of a law suit being pursued by Morgan Reynolds in the United States District Court, Southern District, New York.
http://www.neonnettle.com/news/211-ex-cia-pilot-gives-sworn-testimony-that-no-planes-hit-the-twin-towers
***
2- les tours se seraient effondrées (collapsed), alors que les témoignages concordent pour montrer une "pulvérisation" des tours, passant directement de l'état solide à un état "gazeux", se transformant ce monstrueux nuage de poussière recouvrant tout Manhattan:
***
D'approximation en approximation
De changement d'avis en retournement de veste, comme nous en avertissait Frédéric Henry-Couannier...
Avertissement: Aujourd'hui un certain nombre d'acteurs majeurs, aussi bien aux USA qu'en Europe, du mouvement pour la vérité sur le 11/9 sont en réalité des désinformateurs dont la mission est de maintenir ce conspirationnisme au niveau de crédibilité le plus bas possible en propageant des idioties, tout en prétendant s'activer pour la vérité. Donc si vous entendez des experts soutenir bruyamment des thèses conspirationnistes sur le 11/9 même avec l'appui médiatique du mouvement pour la réouverture de l'enquête, il peut s'agir d'imposteurs...
http://www.darksideofgravity.com/911index.html
les choses s'affinent...
***
DAVID COPPERFIELD ?
WTC spire desintegrated
https://www.youtube.com/watch?v=gEkG4Kx201M
Nous sommes curieux d'entendre les explications des défenseurs de la version officielle sur cette vidéo : comment les colonnes centrales de la Tour Nord, restées quelques secondes debout après la chute complète, peuvent-elles se dissoudre ainsi dans l'air. Ce sont des piliers d'acier massifs de 10 cm d'épaisseur. Des incendies de bureaux peuvent-ils produire cet effet sur des colonnes d'acier ?
IlFattoQuotidiano Fr - 12 mai 2015
https://www.youtube.com/watch?v=ZncEEYi4sJc
NICOLAS TESLA...
Tesla superweapons definitely helped bring down the towers: now we need to know how the additional explosives were planted, and we need to know who planted them, and then we-the-people need to call for a Grand Jury of the States to bring indictments against those responsible for these crimes: it is abundantly clear that the current operators of the corporate federal government will never deviate from the script given to them by the Oligarchs of British Zion.
Posted By: Patriotlad
Wednesday, 28-Aug-2002 12:57:08
http://www.rumormillnews.com/cgi-bin/archive.cgi?read=22537
A Presentation by Dr. Judy Wood
https://www.youtube.com/watch?v=VY-ys24PCYQ
Where Did The Towers Go? A Presentation by Dr. Judy Wood Part 2 of 2
https://www.youtube.com/watch?v=slle-TPHrDE
A l'poque du 9/11, les recherches sur "les rayons de la mort" allaient bon train.
Exemples :
Free Electron Laser development for directed energy
Résumé
This dissertation investigates power requirements for a Free Electron Laser to burn through various missile radome materials. It also includes computer simulation results for several FEL system configurations designed to achieve maximum power while maintaining strict energy spread constraints. The method used to determine power requirements to burn through materials was to use the Thomas Jefferson National Accelerator Facility's Free Electron Laser to conduct material damage experiments. As the laser was improved and increased in power, the laser spot sizes on the target materials was increased while maintaining a constant irradiance. The key results from these experiments included determining minimal spot sizes that can be used for future experiments, and validation that an irradiance level of 10 kW/cm2can burn through most missile radome materials in a few seconds. The computer simulations involved changing various parameters of a FEL such as electron energy levels, pulse lengths, magnetic field strengths, desynchronism, as well as several other parameters, to determine the best possible configuration to achieve the desire power levels and energy spread requirements for development of a weapon size FEL. The results indicate that for the proposed designs, both the required power and the required energy spread limit can be met.
https
://calhoun.nps.edu/handle/10945/9206
https
://www.lockheedmartin.com/en-us/capabilities/directed-energy.html
Le jour de Noël 2020 offre un autre exemple de ces étranges "rayons de la mort"...descendu du ciel...
Voices in my Head !
***
Dernière mise à jour : 14/09/2022 - 21:59 C.E.T.
Komentáře
Přehled komentářů