---
République Nord Américaine vs Banque Fédérale
31. 8. 2009
Le discours à son origine, dénonce les agissements sous-terrains, la guerre de l'ombre qui caractérise la guerre froide en 1961...mais après novembre 1963 et l'assassinat du président Kennedy, il prend, rétrospectivement, des échos prophétiques. Il sert désormais d'illustration pour dénoncer cette nouvelle guerre qui ne dit pas son nom, cette nouvelle lutte des classes qui voit les Banksters régner en maîtres...
The President and the Press: Address before the American Newspaper Publishers Association, April 27, 1961
Ajoutée le 2 août 2014 par Twisted Politix
Ladies and gentlemen,
The very word secrecy is repugnant, in a free and open society, and
we are the people,
inherently and historically, opposed to secret societies, to secret oaths and secret proceedings.
We decided long ago that the dangers of excessive and unwarranted concealment of pertinent facts far outweigh the dangers which are cited to justify it.
Even today there is little value in opposing the threat of a closed society by imitating it's arbitrary restrictions.
Even today there is little value in ensuring the survival of our nation, if our traditions do not survive with it.
And there is very grave danger that an announced need for increased security will be seized upon by those anxious who wish to expand it's meaning to the very limits of official censorship and concealment.
That I do not intend to permit, to the extent that it is in my control.
And no official of my administration whether his rank as high or low, civilian or military, should interpret my words here tonight, as an excuse to censor the news, to stifle dissent, to cover up our mistakes, or to withhold from the press and the public the facts they deserve to know.
For we are opposed, around the world, by a monolithic and ruthless conspiracy, that relies primarily on covert means for expanding it's sphere of influence,
on infiltration instead of invasion, on subversion instead of elections, on intimidation, instead of free choice, on guerrillas by night, instead of armies by day,
It is a system which has conscripted, vast material and human resources into the building of a tightly knit, highly efficient machine that combines military, diplomatic, intelligence, economic, scientific, and po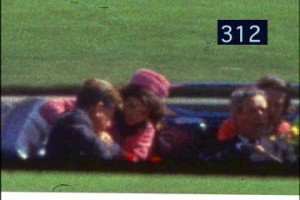 litical operations.
Its preparations are concealed, not published. I
t
'
s
mistakes are buried, not headlined. Its dissenters silenced, not praised. No ex
penditure is questioned. No rumour is printed. No secret is revealed.
No president should fear public scrutiny of his programme. Because from that scrutiny comes understanding. And from that understanding comes support or opposition, and both are necessary.
I am not asking your newspaper to support an administration.. But I am asking your help in the tremendous task of informing and alerting the American people..
For I have complete confidence in the response and the dedication of our citizens when they are fully informed. I not only could not stifle controversy from your readers I welcome it. This administration intends to be candid about its errors. For as a wise man once said, "an error doesn't become a mistake until you refuse to correct it". We intend to accept full responsibility for our errors and we expect you to point them out when we miss them. Without debate without criticism, no administration and no country can succeed. And no republic can survive.
That is why the Athenian law maker Solon decreed it a crime for any citizen to shrink from controversey. And that is why our press was protected by the first amendment, the only business in America specifically protected by the constitution, not primarily to amuse or entertain, not to emphasise the trivial and the sentimental, not to simply give the public what it wants, but to inform, to arouse, and to reflect to state our dangers and our opportunities, to indicate our crises and our choices, to lead, mould, educate and sometimes even anger public opinion.
This means greater coverage and analysis of international news, for it is no longer far away and foreign, but close at hand and local.. it means greater attention to improved attention to greater understanding of the news, as well as improved transmission, and it means finally, the government at all levels, must meet its obligation, to provide you with it's possible information, outside the narrowest limits of national security.
And so it is to the priniting press, to the recorder of man's deeds, the keeper of his conscience, the carrier of his news, that we look for strength, and his assistance, confident that with your help,
Man will be what he was born to be: free and independent.
http://www.jfklibrary.org/Research/Research-Aids/JFK-Speeches/American-Newspaper-Publishers-Association_19610427.aspx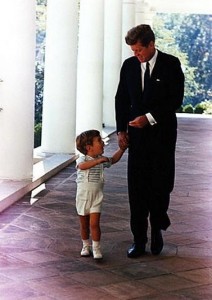 Le Président et la presse: discours devant l'Association des éditeurs de presse américaine, 27 Avril, 1961
Extraits :
Mesdames et Messieurs,
Le simple mot de secret est répugnant dans une société libre et ouverte, et nous sommes le peuple, par définition et historiquement, opposés aux sociétés secrètes, aux serments secrets et aux démarches secrètes. Nous avons décidés il y a longtemps que les dangers d'une dissimulation excessive et injustifiée de faits pertinents sont largement plus redoutables que les dangers que cette dissimulation est censée éviter.
Même aujourd'hui la survie de notre nation n'est guère assurée si ses traditions ne sont pas préservées.
Et ces anxieux, utilisant l'annonce d'un besoin croissant de sécurité pour étendre sa signification aux limites de la censure et de la discrétion officielles, représentent une grave menace.
Je m'y opposerai aussi fermement que mon pouvoir le permettra.
Et aucun membre de mon administration, quelque soit son rang, civil ou militaire, n'est autorisé à interpréter mes paroles de ce soir pour se permettre de censurer les informations, d'étouffer les protestations, de couvrir nos erreurs, ou de dissimuler à la presse ou au public les informations qu'ils méritent de connaître.
Face à nous, partout dans le monde, se dresse une monolithique et impitoyable conspiration, et pour étende sa sphère d'influence, elle recourt essentiellement à des moyens secrets, à l'infiltration plutôt qu'à l'invasion, à la subversion plutôt qu'aux élections, à l'intimidation plutôt qu'à la libre décision, à une guérilla de nuit plutôt qu'à une armée en plein jour.
Il s'agit d'un système qui a mis en œuvre de vastes ressources matérielles et humaines afin de tisser une étroite toile, une machine à l'efficacité redoutable combinant toutes sortes d'opérations autant militaires que diplomatiques, d'espionnage ou économiques, scientifiques ou politiques.
Ses préparations sont secrètes, jamais publiées. Ses erreurs sont enterrées, jamais affichées. Les contestataires sont soumis au silence, jamais félicités. Aucune dépense n'est justifiée. Aucune rumeur n'est imprimée. Aucun secret révélé.
Aucun président ne devrait s'effrayer d'un examen public de son programme car de cet examen naîtra la compréhension. Et de cette compréhension naîtra le soutien ou l'opposition et tous deux sont nécessaires.
Je ne demande pas à vos journaux de soutenir une administration. Mais je demande votre aide dans l'immense tâche d'informer et d'alerter le public des Etats-Unis. Car j'ai une totale confiance dans la réponse et le dévouement des citoyens une fois qu'ils seront pleinement informés.
Je ne tiens pas seulement à ce que les controverses de la part de vos lecteurs ne soient pas étouffer, au contraire je m'en réjouis. Cette administration à l'intention de rester candide face à ses erreurs. Comme un homme sage le déclara autrefois : « une erreur ne devient une faute que si on refuse de la corriger. » Nous avons l'intention d'endosser la totale responsabilité de nos erreurs et nous attendons que vous attiriez notre attention sur celles qui nous échapperaient. Sans débat, sans critique aucune administration ni aucun pays ne peut réussir. Aucune république ne peut survivre.
C'est pourquoi le légiste athénien Solon décréta qu'il était criminel pour tout citoyen de tenter d'échapper à la controverse.
C'est pour cette raison que notre presse, la seule entreprise aux Etats-Unis protégée par la constitution, bénéficie de la protection du premier amendement, essentiellement non pas pour distraire et divertir, non pas pour insister sur le trivial et le sentimental, non pour simplement satisfaire les envies du public, mais essentiellement pour informer, pour éveiller et pour faire état des dangers et des opportunités, pour mettre à jour nos crises et nos décisions, pour ouvrir la voie, façonner, éduquer et parfois même provoquer la colère de l'opinion publique.
Cela implique une plus grande couverture et plus d'analyses de ces informations internationales qui ne sont désormais ni éloignées ni étrangères mais si proches de nous et à portée de main. Cela implique autant une attention plus soutenue pour comprendre ces informations qu'un progrès dans leur diffusion. Et cela implique surtout que le gouvernement à tous les niveaux doit faire face à ses obligations de vous fournir toutes les informations possibles ne relevant pas du domaine le plus étroit possible de la sécurité nationale.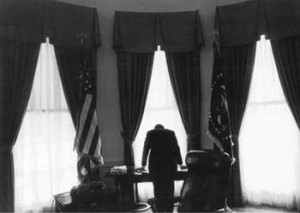 Il en va de la mission de la presse écrite, de sauvegarder la mémoire des actions de l'homme, d'être le gardien de sa conscience, le porteur de ses informations dans lesquelles il puise sa force, confiant qu'avec votre aide,
l'homme deviendra ce pour quoi il est né : libre et indépendant.
Executive Order 11110 AMENDMENT OF EXECUTIVE ORDER NO. 10289 AS AMENDED, RELATING TO THE PERFORMANCE OF CERTAIN FUNCTIONS AFFECTING THE DEPARTMENT OF THE TREASURY

By virtue of the authority vested in me by section 301 of title 3 of the United States Code, it is ordered as follows:

Section 1. Executive Order No. 10289 of September 19, 1951, as amended, is hereby further amended-

By adding at the end of paragraph 1 thereof the following subparagraph (j):

(j) The authority vested in the President by paragraph (b) of section 43 of the Act of May 12,1933, as amended (31 U.S.C.821(b)), to issue silver certificates against any silver bullion, silver, or standard silver dollars in the Treasury not then held for redemption of any outstanding silver certificates, to prescribe the denomination of such silver certificates, and to coin standard silver dollars and subsidiary silver currency for their redemption

and --

By revoking subparagraphs (b) and (c) of paragraph 2 thereof.

Sec. 2. The amendments made by this Order shall not affect any act done, or any right accruing or accrued or any suit or proceeding had or commenced in any civil or criminal cause prior to the date of this Order but all such liabilities shall continue and may be enforced as if said amendments had not been made.

John F. Kennedy The White House, June 4, 1963.
http://www.real-debt-elimination.com/real_money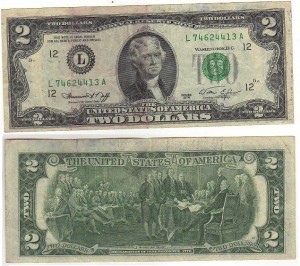 Billet de deux dollars...
...le President Thomas Jefferson signant la Déclaration d'Indépendance...
...émis par le gouvernement de JFK à partir de juin 1963, au détriment du monopole de la FED...
http://www.infowars.com/?p=6146
Autre temps, autres moeurs...comme dirait l'autre...

1861: President Abraham Lincoln (16th President of the United States from 1860 till his assassination in 1865) approaches the big banks in New York to try to obtain loans to support the ongoing American civil war. As these large banks were heavily under the influence of the Rothschilds, they offer him a deal they know he cannot accept, 24% to 36% interest on all monies loaned.
Lincoln is very angry about this high level of interest and so he prints his own debt free money and informs the public that this is now legal tender for both public and private debts.
1862: By April $449,338,902 worth of Lincoln's debt free money has been printed and distributed. He states of this,
Lincoln's Greenback
"We gave the people of this republic the greatest blessing they ever had, their own paper money to pay their own debts."
1865: In a statement to Congress, President Abraham Lincoln states,
"I have two great enemies, the Southern Army in front of me, and the financial institutions in the rear. Of the two, the one in my rear is my greatest foe."

Later that year, on April 14, President Lincoln is assassinated, less than two months before the end of the American Civil War.
http://latruth.com/index.php?option=com_content&task=view&id=129&Itemid=2
*****
Friday, June 19, 2009
L'indépendant et inoxydable Ron Paul ramène enfin le débat au sein de la chambre des représentants : on ne réglera pas le problème en donnant plus de pouvoir aux banques centrales! Les banques centrales sont le problème!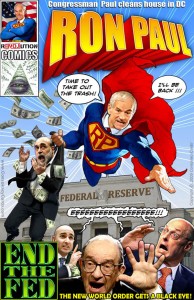 http://www.infowars.com/ron-paul-slams-federal-reserves-new-dictatorial-powers/
La "loi Ron Paul" votée en octobre?
31/08/2009
D'une façon assez discrète, et, également, fort discrètement rapportée par la presse-Pravda, le député démocrate Barney Franks, président de la Commission des Finances de la Chambre des Représentants, a annoncé que la loi HR 1207, que nous désignons volontiers sous le surnom de "loi Ron Paul", devrait être votée en octobre. (La loi HR 1207 constitue une loi d'audit de la Federal Reserve, destinée à rendre publiques les activités et les diverses initiatives de cet organisme tout-puissant, particulièrement secret dans ses activités alors qu'il régule fondamentalement la politique monétaire des USA en soutenant Wall Street. Il s'agit du rôle classique de Banque centrale alors qu'il s'agit dans les faits d'une institution privée, que ses activités sont totalement incontrôlées par le pouvoir législatif et totalement dissimulées au public.)
http://www.dedefensa.org/article-la_loi_ron_paul_votee_en_octobre_31_08_2009.html
Dernière mis à jour : 17/05/2016
Komentáře
Přehled komentářů