---
La République des Pirates
21. 6. 2021
La légitime défense proactive
https://www.youtube.com/watch?v=PezHpWI_X9Q
***
First Amendment audits are a largely American social movement that usually involves photographing or filming a public space. It is often categorized by its practitioners, known as auditors, as activism and citizen journalism that tests constitutional rights;[1] in particular the right to photograph and video record in a public space.[2][3]
https://en.wikipedia.org/wiki/First_Amendment_audits
Description Welcome to Audit the Audit, where we sort out the who and what and the right and wrong of police interactions! Join us as we explore the laws, regulations, and violations showcased in first amendment audits, police interactions, and legislation. Submit your videos here: auditheaudit@gmail.com For sponsorship inquiries: audit@ellify.com
https://www.youtube.com/watch?v=dltX-sA3QP8
Il est interdit de « prendre à leur insu les gens en photo dans la rue »
29. 1. 2021
- Sauf sous les jupes des filles...
- L'Etrange Profil d'Isadora Duncan par ADBK TV
- Auditing the First Amendment
https://www.jerome-maurice-francis.cz/clanky/radio-paris-ment/il-est-interdit-de----prendre-a-leur-insu-les-gens-en-photo-dans-la-rue---.html
СтопХам
Description "Stop a Douchebag" - is a Russian youth movement that fights against traffic violations and rudeness on the roads in Russia. We do not fight for the law. We fight for people to think about the rights and convenience of others regardless of whether there is a police officer near them or not.
SADB - "Instant Karma Edition"
https://www.youtube.com/watch?v=BS_VXGN5pV0
LES DÉCROCHEURS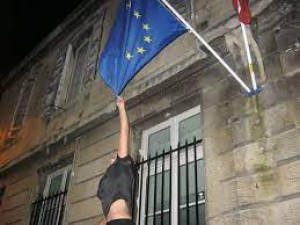 La Liberté guidant le Peuple
L'association est née en 2014 à la suite des premiers décrochages de « drapeaux européens » sur les places publiques, façades d'écoles et bâtiments publics, qui ont perduré par la suite dans le temps long de notre bataille commune contre notre asservissement à l'Union européenne.
Alpes-Maritimes : 1 an de prison pour avoir décroché le drapeau européen d'une mairie
Mis à jour le Publié le
https://www.cnews.fr/france/2021-05-31/alpes-maritimes-1-de-prison-pour-avoir-decroche-le-drapeau-europeen-dune-mairie
En Somalie, que reste-t-il des pirates des temps modernes ?
11/05/2018
Il y a encore dix ans, les pirates somaliens attaquaient fréquemment les bateaux au large de la Somalie, face à la côte du Puntland. À l'origine de cette vague de violence : la colère des pêcheurs locaux face aux chalutiers venus du monde entier ratisser les eaux poissonneuses de la Corne de l'Afrique. Nos correspondants sont allés à la rencontre de ces pêcheurs, et des forces armées locales qui luttent à présent contre un fléau bien plus dangereux : les islamistes Shebab.
http://www.france24.com/fr/20180511-billet-retour-puntland-somalie-pirate-shabab-golfe-aden-garde-cote-yemen
SOMALIE: REVIGORER L'INDUSTRIE DE LA PÊCHE
18 nov. 2014
Des décennies de guerre civile et l'effondrement du gouvernement central qu'elle a entraîné ont rendu très difficile pour la plupart des pêcheurs somaliens de profiter des riches ressources halieutiques de leur pays. Mais maintenant, grâce au déploiement de la Mission de l'Union
https://www.youtube.com/watch?v=vz_cQ_QPjr4
Komentáře
Přehled komentářů