---
Le C.C.C appelle à faire face au pervers pirate de l'air porteur de maladies
Sri Lanka : un contrebandier s'évade de prison
Montpellier : un léopard sème la terreur
Moldavie : la lutte contre la drogue s'intensifie...
Grande Bretagne : les Chinois à l'écoute...
Californie : Klepto Da Cat Burglar !
Science : Save Schrodinger's cat !
Ce sont vraiment de gros cons !
***
Les chats sont des cons !
...en plus d'être une bande de parfaits pervers et sadiques pirates de l'air :
Soudan : un chat s'attaque au pilote, l'avion atterrit en urgence
VU DANS LA PRESSE - Une demi-heure après le décollage d'un avion reliant Khartoum à Doha, un chat errant a fait irruption dans le cockpit avant de s'en prendre violemment au pilote.
https://www.rtl.fr/actu/insolite/soudan-un-chat-s-attaque-au-pilote-l-avion-atterrit-en-urgence-7900006358
...
5 raisons scientifiques de détester les chats
En France, 28 % des foyers possèdent un chat en 2017. Les félins sont plus de 13,5 millions à baguenauder dans les maisons et appartements, un chiffre en hausse de 35 % en 7 ans. Leurs propriétaires leur vouent un véritable culte : 49,5 % d'entre eux les considérant comme un membre de la famille à part entière. Bien ingrat, le chat se fiche pourtant royalement de cette affection et se révèle manipulateur, menaçant et vecteur d'un bon paquet d'ennuis.
https://www.futura-sciences.com/planete/questions-reponses/chat-5-raisons-scientifiques-detester-chats-14733/
Il serait temps que les Citoyens de tous pays s'unissent contre l'infâmie :
CCC comité contre les chats
https://www.youtube.com/watch?v=XkOYGrZQqmU
***
Sri Lanka : un chat contrebandier s'évade de prison
Publié le
Un chat intercepté dans la principale prison du Sri Lanka en tentant d'y introduire de la drogue et des cartes SIM s'est échappé de l'établissement pénitentiaire, ont rapporté lundi la police et la presse locales. Le félin a été capturé samedi à la prison de haute sécurité Welikada de la capitale Colombo, a indiqué un responsable policier. Un sachet en plastique attaché à son cou contenait près de deux grammes d'héroïne, deux cartes SIM et une carte mémoire.
D'après le journal Aruna, le petit trafiquant s'est évadé dimanche de la pièce de la prison où il était retenu...
https://www.ladepeche.fr/2020/08/04/sri-lanka-un-chat-contrebandier-sevade-de-prison-9006695.php
***
Alors qu'on savait déjà que les tigres étaient entrés dans Paris, en ouvrant le journal du matin, on apprend que certains fauves ne sont pas toujours ce qu'ils semblent...
Montpellier: Un léopard menace de manger ses poules, les gendarmes débarquent, c'était un chat
Publié le 04/03/18 à 10h28 —
Drôle d'intervention samedi, pour les gendarmes : épaulés par les sapeurs-pompiers, les militaires héraultais ont déboulé à Juvignac, près de Montpellier, prévenus un peu plus tôt par une habitante de la commune… qu'un léopard se trouvait sur le toit de sa maison.
Selon l'Héraultaise, l'animal menaçait de manger ses poules. Les gendarmes ont réussi à neutraliser sans trop de mal l'imposant félin qui était en réalité… un chat, un Savannah.
https://www.20minutes.fr/montpellier/2231323-20180304-montpellier-leopard-menace-manger-poules-gendarmes-debarquent-chat
***
Moldavie: un chat passeur de drogue arrêté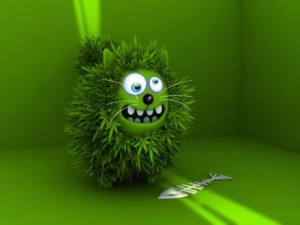 source image : http://potimages.com/details.php?image_id=444



MOSCOU, 18 octobre - RIA Novosti
Les surveillants d'une prison moldave ont arrêté jeudi matin un chat faisant du trafic de drogue, a annoncé le ministère moldave de la Justice.
Les gardiens ont capturé le chat qui pénétrait régulièrement sur le territoire de la prison par un trou dans le mur, après qu'ils ont vu que le félin était muni d'un collier suspect. Il s'est avéré plus tard que le collier contenait deux sachets de marijuana.
Selon le Département des institutions pénitentiaire de Moldavie, le chat passeur de drogue a été envoyé par un habitant d'un village situé non loin de la prison.
Ce n'est pas la première fois que des criminels se servent de félins pour envoyer des stupéfiants ou des armes dans les établissements pénitentiaires. En juillet dernier, les employés de la colonie pénitentiaire N°1 de la république russe des Komis ont arrêté un chat noir est blanc harnaché de deux téléphones portables, d'accumulateurs et de chargeurs fixés par un ruban adhésif sur son dos. Au début de 2013, un chat spécialement dressé a essayé de pénétrer dans une prison brésilienne avec un sac contenant un téléphone portable et des lames de scie permettant aux détenus de s'évader.
http://fr.ria.ru/insolites/20131018/199593728.html
***
En juin 2013, c'est Freya, la chatte du chancelier de l'Echiquier George Osborne, qui s'est attiré des soupçons d'espionnage liés à une lacune mystérieuse dans sa biographie. En 2009, le matou avait disparu sans laisser de trace, pour être retrouvé deux ans plus tard. Il a été identifié grâce à une puce électronique sous sa peau. Selon les partisans de la théorie du complot, le chat aurait été "enrôlé" par le renseignement chinois. D'autant plus qu'on le voyait de temps en temps traîner dans les pièces les plus sécurisées des Affaires étrangères et du Trésor.
***
Cat Burglar Klepto Kitty Funny News Story
Mise en ligne le 16 févr. 2011 par FrownsUpsideDown
CAT burglar. Residents of a California neighborhood say a cat has a habit of stealing items from neighbors. "Dusty" has apparently stolen more than 600 items from his San Mateo neighbors over the years.
Some pets leave "presents" for their owners but this cat brings it to the extreme with criminal-like behavior. It's a good thing he's so cute.
https://www.youtube.com/watch?v=fDX7tevXO1E
***
Physicists can predict the jumps of Schrodinger's cat (and finally save it)
Yale researchers have figured out how to catch and save Schrödinger's famous cat, the symbol of quantum superposition and unpredictability, by anticipating its jumps and acting in real time to save it from proverbial doom. In the process, they overturn years of cornerstone dogma in quantum physics.
The discovery enables researchers to set up an early warning system for imminent jumps of artificial atoms containing quantum information. A study announcing the discovery appears in the June 3 online edition of the journal Nature.
Schrödinger's cat is a well-known paradox used to illustrate the concept of superposition—the ability for two opposite states to exist simultaneously—and unpredictability in quantum physics. The idea is that a cat is placed in a sealed box with a radioactive source and a poison that will be triggered if an atom of the radioactive substance decays. The superposition theory of quantum physics suggests that until someone opens the box, the cat is both alive and dead, a superposition of states. Opening the box to observe the cat causes it to abruptly change its quantum state randomly, forcing it to be either dead or alive.
The quantum jump is the discrete (non-continuous) and random change in the state when it is observed.
The experiment, performed in the lab of Yale professor Michel Devoret and proposed by lead author Zlatko Minev, peers into the actual workings of a quantum jump for the first time. The results reveal a surprising finding that contradicts Danish physicist Niels Bohr's established view—the jumps are neither abrupt nor as random as previously thought.
The Yale team used a special approach to indirectly monitor a superconducting artificial atom, with three microwave generators irradiating the atom enclosed in a 3-D cavity made of aluminum. The doubly indirect monitoring method, developed by Minev for superconducting circuits, allows the researchers to observe the atom with unprecedented efficiency.
Microwave radiation stirs the artificial atom as it is simultaneously being observed, resulting in quantum jumps. The tiny quantum signal of these jumps can be amplified without loss to room temperature. Here, their signal can be monitored in real time. This enabled the researchers to see a sudden absence of detection photons (photons emitted by an ancillary state of the atom excited by the microwaves); this tiny absence is the advance warning of a quantum jump.
"The beautiful effect displayed by this experiment is the increase of coherence during the jump, despite its observation," said Devoret. Added Minev, "You can leverage this to not only catch the jump, but also reverse it."
This is a crucial point, the researchers said. While quantum jumps appear discrete and random in the long run, reversing a quantum jump means the evolution of the quantum state possesses, in part, a deterministic and not random character; the jump always occurs in the same, predictable manner from its random starting point.
"Quantum jumps of an atom are somewhat analogous to the eruption of a volcano," Minev said. "They are completely unpredictable in the long term. Nonetheless, with the correct monitoring we can with certainty detect an advance warning of an imminent disaster and act on it before it has occurred.
Read more at : https://phys.org/news/2019-06-physicists-schrodinger-cat.html
***
Sauver le chat de Schrödinger !
L'université de Yale se rendrait-elle complice de la grande conspiration féline ?
https://www.youtube.com/watch?v=g86oqxtIYJ4
***
Première mise en ligne : 18/10/2013
Dernière mise à jour : 10/03/2021
Komentáře
Přehled komentářů