---
Adolf Hitler ne mangeait rien !
1er novembre 2008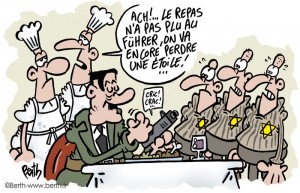 http
://berth.canalblog.com/
La mode des lois interdisant de se poser trop de questions sur la réalité des faits de WWII n'a pu que susciter la curiosité naturelle de chacun...
http://www.toutsaufsarkozy.com/cc/article02/EkEAylyFkFqhGUoXsD.shtml
...quelles sont ces dérangeantes vérités que la législation cherche à enfouir...
...qu'à l'image des amours arlozoroffiennes de Magda Goebbels, les Sionistes entretenaient d'étranges liens avec les Nazis ?
http://palestineliberer.canalblog.com/archives/2009/01/11/12044374.html
...que l'Etat français et ses préfets étaient impliqués dans le fonctionnement de chambres à gaz sur le territoire dont il avait la charge administrative ?
http://www.jp-petit.org/nouv_f/issy_chambre_gaz/chambre_a_gaz_a_paris.htm#16_10_07
...et qu'il faille réexaminer voire compléter la liste des camps d'extermination et préciser lesquels se trouvaient en France ?
http://www.phdn.org/histgen/bilan-gazages.html
...ou bien encore que le FBI ait eu raison, jusqu'en 1956, de vérifier systématiquement les témoignages de ceux ayant prétendu avoir vu Hitler vivant?
http://www.armees.com/Pour-le-FBI-Hitler-etait-vivant.html
Las, le ridicule des inquisiteurs et les mystères de WW2 persistent :
Un "plat" trop indigeste pour la TV belge
Accusée de banaliser le personnage, la TV publique flamande a renoncé à diffuser une émission consacrée au "plat préféré" d'Adolf Hitler.
http://tf1.lci.fr/infos/monde/europe
Mais qui franchement aurait été le plus dérangé par les révélations que nous promettait cette croustillante émission?
A quel sauce aux bons sentiments la censure des humanistes mangeat-elle les téléspectateurs belges?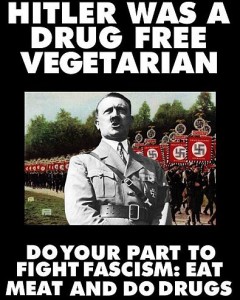 http://en.wikipedia.org/wiki/Vegetarianism_of_Adolf_Hitler

Dentition, système digestif...tout indique qu'Homo Machin Machin est omnivore. Alors quid du végétarianisme...je me demande d'ailleurs ce que mange le Dalai Lama...les rumeurs du net susurrent que Tzipi Livni ferait partie de la secte des croqueurs de soja, derniers gogos à prendre encore au sérieux le conte de fée du réchauffement médiatique :

http

://www.categorynet.com/communiques-de-presse/europe/l%27association-vegetarienne-de-france-appelle-le-premier-ministre-danois-a-mettre-en-place-des-repas-vegetariens-20091124110412/

En plus de se gaver d'amphétamines, le troll à moustache goutait-il aux joies du joint ? J'en doute !

Le cannabis, mis à part celui dont le commerce est directement contrôlé par les nazis qui nous gouvernent et les amis du Roi du Maroc, reste un symbole fort et vivace de la Résistance aux lois scélérates, celles, qui en interdisant une pratique majoritairement répandue, créent les délinquants dans le seul objectif de démontrer l'exercice du pouvoir, qui est toujours un pouvoir sur l'autre comme dirait André Avramesco!



Le chanvre des jardins d'ouvriers.

Loin du contrôle du patron et de ses flics, voila que pousse une abondante matière première riche en fibres utilisables pour les cordages et les tissus, pour la construction et même pour l'alimentation. Une plante réputée thérapeutique depuis toujours. Antalgique de l'esclave après sa journée de labeur...


http://fr.wikipedia.org/wiki/Chanvre_cultiv%C3%A9


...voila l'ennemi diabolique...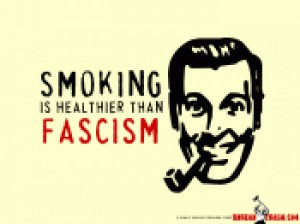 ...l'herbe des jardins d'ouvriers mexicains interdite par les kapos du Texas en 1912 :
True History of Marijuana
Massimo Mazzucco 2010

Avec l'avènement de la génération du "Baby Boom", les derniers intégristes devenant hystériques à la seule vue du feuille de cannabis vont se sentir de plus en plus déphasés avec leur époque...étrange époque sur laquelle ils n'auront jamais eu aucun contrôle et pendant laquelle ils n'auront été que les marionnettes d'une organisation politique qu'ils auront systématiquement refusée de regarder en face...

http://www.asterpix.com/v/8734771/democrats-using-drugs-obama-clinton-and-others/

La politique de l'autruche n'ayant jamais réussi à apporter aucune solution à aucun problème, une vision réaliste du monde et de son fonctionnement s'avère d'une urgence particulière en temps de crise. Le cannabis, marchandise pas tout à fait comme les autres, pourrait bientôt passer pour le sauveur d'une économie en plein effondrement :
Légaliser le pot pour sauver l'économie?
le 04 mars 2009
(Los Angeles) Frappés par la crise économique, les Américains revisitent une idée controversée: légaliser (et taxer) la marijuana. Des élus et des économistes font ces jours-ci des sorties publiques pour appuyer le projet. La Californie y voit des revenus potentiels d'un milliard par année.
http://www.cyberpresse.ca/international/etats-unis/200903/03/01-833000-legaliser-le-pot-pour-sauver-leconomie.php
Can Legalizing Marijuana Save California, Our Republic?
Eric Blair
Activist Post
September 1, 2010
http://www.infowars.com/can-legalizing-marijuana-save-california-our-republic/
Au pays de feue la République, les Citoyens, les jeunes les autres, même orphelins, risquent gros:
Peine-plancher : 8 grammes de cannabis, 4 ans de prison !

http://www.bakchich.info/8g-de-cannabis-4-ans-de-prison-1,06520.html


Ailleurs en Europe :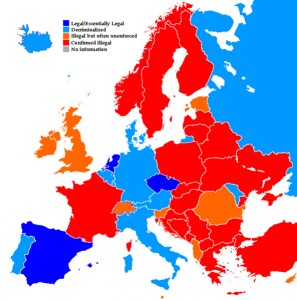 http://en.wikipedia.org/wiki/File:European-cannabis-laws.png


Sweden legalizes and regulates cannabis

Stockholm, December 19
The Swedish Parliament has approved a law which will regulate the growing, usage and trade of cannabis. This is according to the Health and Social Services of Sweden, Jonas Grönhög, who was quoted, "We don't want to make the same mistakes which the USA has done, we do not want to be prohibitionists because the war on drugs has been lost long ago. It is better to prevent marginalization of young people than jail them for soft drugs usage which are comparatively harmless. If we allow the sale of alcohol, there is no reason to ban the soft drugs no longer."
http://justpaste.it/Sweden_Legalizes_Cannabis
***
Gov. Admits they Deal Heroin, Terrorize Families for Pot
https://www.youtube.com/watch?v=_754wKyGv20

***
It took 45 years after the 1933 termination of the United States government's alcohol prohibition for the US government to legalize beer home brewing and, then, another 35 years until in 2013 the last two American states legalized home brewing. In comparison, of the ten states where recreational marijuana has been legalized, only the Washington state government prohibits home growing of marijuana, and for years the US government has backed off from prosecuting people complying with the liberalized state marijuana laws.

In this way, freedom is being recognized more quickly under marijuana legalization than it was under alcohol legalization. But, the number of states that include prohibition of home grow in their laws generally ending marijuana prohibition may increase. In particular, New York Governor Andrew Cuomo is proposing marijuana legalization that includes, consistent with a recently revealed request from some large marijuana companies, a ban on home grow.

One area where ending marijuana prohibition is progressing with much less respect for freedom is the legal ability to buy and use marijuana in a variety of places. Under legalization, people have been denied the ability to legally purchase marijuana products at bars and restaurants. The sale of marijuana products also remains prohibited at other places where alcoholic beverages are sold, such as at grocery stores and convenience stores, as well as at special events including concerts, sport competitions, and fairs.

Proponents of marijuana legalization often say that marijuana use is less harmful than alcohol use. This argument was the focus of a series of bus-side advertisements funded by the Marijuana Policy Project, for example, in its 2013 effort to encourage people to vote in favor of an ultimately approved marijuana ballot measure in Portland, Maine. Yet, individuals in states with legal recreational marijuana have less options for where they can purchase and consume marijuana legally than they do in regard to beer or even liquor.

Ending marijuana prohibition in a state or at the national level is an important accomplishment. But, as with the ending of alcohol prohibition, there afterward remain more actions that can be taken to further expand government's respect for freedom. Hopefully, many of those actions will be taken in a time period measured in months or even a few years instead of several decades.
Copyright © 2019 by RonPaul Institute.
http://www.ronpaulinstitute.org/archives/peace-and-prosperity/2019/march/01/making-marijuana-legalization-more-freedom-friendly/
***
Dernière mise à jour : 14/04/2021
Komentáře
Přehled komentářů